Asli Punjab Industries
We hereby avail this opportunity to introduce the Asli Punjab Industries (Pvt.) Limited as a leading manufacturer of Water Pumps, Electric Motors and Polymer products and services in the country providing quality products and services to our valued customers.
The company has forwarded the steps to enter into corporate culture by achieving corporate certification of Company from Sole Proprietorship to Private Limited Company from Securities and Exchange Commission of Pakistan. While company has started trading of plastic products with Turkey, China, Europe ,Korea and United States in the year 2000.The Company took a positive step by importing latest machinery for producing PPR-C, uPVC Pipes & fittings and Water Tanks of different capacity under the supervision of international polymer experts and thus started the production of polymer products.
In the year 2019,the company has started the production of blow molding water storage Tank that is an addition in company achievements and contribution from very first in commitment for augmenting in research and development.
Short Briefing on Products
Water Pumps
Since the starting manufacturing of water Pumps, company has a distinguished name in deep well pump with Breaker System. In the decade of 1980, due to increase in prices of raw material tremendously, market has a short fall of raw material for quality products that was right against the theory of Asli Punjab Industries (Pvt.) Limited.
The scarcity of Quality Raw Material has opened new horizons for casting Iron processing in house for provision of Quality Cast Iron and this has made possible continuous supply our products to our valued customers. The Manufacturing of Water Pumps is purely and solely technical assignment that has no chance of even a tiny negligence. In the recession decade of 1990, there was again a slump for local prices of copper wire that has make impossible to retain pure quality copper wire on competitive prices. There were impurities in local manufactured copper wire of silver and other alloys. This fact was revealed during Laboratory test of copper wire. At the time API has planed to start manufacturing on emergency basis by contributing our experts efforts and professionalism this task was completed successfully. This planning has a vital importance in our history because the usage of pure copper has not only increased the life of our water pumps but also decrease the electricity bill of our customers significantly. We know the workmanship of water pump manufacturing through state -of the art Machinery, training from foreign experts and skilled workforce; this is the reason we are ahead in standards and innovations.
Passing through various manufacturing processes final fitting and safety precautions started where every pump is tested in Laboratory against standards set by Pakistan Standard and Quality Control Authority. Products like Water Pumps and motors are tested at heavy electricity load till 45 minutes to check the non-conformities during operation. Water pumps are not released to market until all non-conformities are removed.
Quality Assurance Manager designs a Testing Plan for all pumps. All pumps are tested under the supervision of Quality Assurance Manager and Quality Assurance Report is prepared. Once again QA Manager selects the 5% pump for testing from the whole lot. If a single pump found defective then all lot is re-tested and pumps are released for market after having complete Quality assurance process. In third step our after sale service team visit the dealers and distributors where pumps storage and handling conditions are monitored properly and technical guidance is provided to them. These activities endorse our commitments towards provision of high Quality Products and Services that meet their needs and expectations.
Polymers Products
API is a pioneer in manufacturing three layered PPR-C Pipes in Pakistan resulting increase 50 years in PPR-C pipes and allied accessories. This process ensures the food grade and hygienic production of PPR-C pipes and allied accessories. During manufacturing three layered pipes the focus is on not only external strength but also inner layered is considered more static and solid. API is also a pioneer in aluminum layered PPR-C pipes in Pakistan showing the API determinations towards innovation and struggle for continuously improvement in design and features of the product. Aluminum layered PPR-C products not only resist the environmental impacts but also safe guarding the pipes from germs and remove the hazards of dumping in the building.
We use food Grade resin and other material to safeguard the health of the customers. We import food grade material from Turkey Europe, Korea, Indonesia, Malaysia and United States. We test and verify the quality of imported Raw Material applying various techniques.
API Takes the responsibility of Quality products, therefore we cannot merely rely on raw material imported from foreign manufacturer. Our latest equipped Lab test the raw material before issuance to production. That's why API products are the first priority to choose across the Pakistan. Testing and verification Process start from Testing of raw material and remains continued during production and final inspection.
All tests are carried out under the PSQCA guideline; some of tests are as under:
Specific Gravity
Hydrostatic Pressure Testing
Impact Test
Heat Reversion Test
Methelene Chloride Test
Tensile Test
Melt Flow Index Test
Microscopic Test
Structure Toughness Test
Opacity Test
Blow Molding Water Tank
Keeping view the tradition and commitment of moving ahead, API has introduced water Tank in the year 2019 that has unique features of six layered in structure.
Since now API is the only one who introduced and manufacturing six layered water storage Tank in the country. The structure of water storage Tank has a layered made from foam keeping safe the water from adverse weather impacts. While a specific layer keep safeguard the water by removing the light that cause producing algae in the water.
The structure and design of API water storage Tank made it unique and different.
API has the most trained and skillful workmanship and qualified Research & Development team who remain striving in High-Tech Lab Testing activities and production process.
Certifications / Awards and Achievements
Due to technical expertise and blessings of ALLAH the almighty API has achieved the awards from President of Pakistan, Prime Minister of Pakistan, Provincial Governors, Federal and Provincial Ministers, Scientists along with International organization for standardization (ISO), Pakistan Standard and Quality Control Authority (PSQCA), Pakistan Council for Scientific and Industrial Research (PCSIR) and has enlisted by Communication and Works department Government of Pakistan. API has hope for further achievement in near future.
Product Verification System via SMS-Web-Android Applications and IOS
As API is moving on successful track since 1966,imitators have also tried the supply of the substandard/counterfeited products to general public. All designs, patents rights and brands are approved a reserved by Government of Pakistan. A number of legal proceedings have been filed and imitators have been sent to imprisonment. Imitators are trying to provision of substandard and counterfeited products to general public and looting the money of people by many ways. To safeguard the General Public from imitators, API has unique packing and laser printing on the products while a specific sticker is affixed on water pumps bearing the prominent picture of Haji Muhammad Bashir Mughal. This sticker has two unique features for identification and verification of genuine water pump. Some features of this sticker are tested before purchasing pump while others are can be verified after purchasing the product.
Precautionary Measures against counterfeited Products
Customer will hear a specific sound while a device is put on the sticker. Our dealer has this unique sounding device. It can also be purchased from the company against the payment of USD 100.
There is a prominent picture of Haji Muhammad Bashir Mughal on the left side of sticker.
At the upper side of the sticker there is a hologram of API and year 1966 can be seen prominently by moving the sticker at the right side.
There are the words around the sticker "ASLI PUNJAB INDUSTRIES (PVT.) Limited" can be seen by specific magnifier glass.
There is a fifth method describing the design of the Logo seen by alighting UV light in the darkness.
Contributing for Corporate Social Responsibility
API is not only endeavoring for innovate and standardize the products and services but also contributing for social causes on various forums. Climate Changes, de-forestation and provision of potable water are the main issues prevailing globally.API is contributing positively in national campaign of Tree plantation and provision of clean drinking water by installing self-funded Tree plantation and Water Filter Plants in its domain
Founder
Haji Muhammad Bashir Mughal
Never doubt that a small group of thoughtful, concerned citizens can change world. Indeed it is the only thing that ever has.
Haji Muhammad Bashir Mughal Founded the company in year 1966. His efforts cannot be valuate in words as he started with limited resources, investment but his dedication with the work and responsibility a small street shop into a big group.
Now the company is engaged producing a vast range of water pumps, having its own facility of Iron casting and Enamelled Copper Wire. The way to success is moving ahead by improving its scope of business as well as honesty with the responsibility to lead the industry.
All is being done due to umbrella of the Founder of Company, he; himself is still striving hard with the slogan to never compromise of quality at all.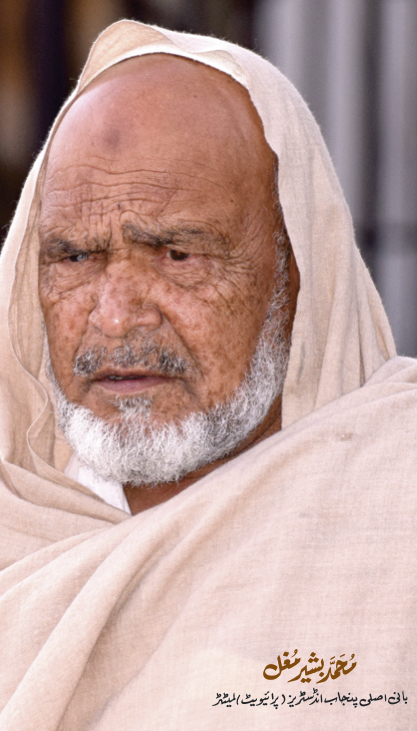 CEO'S MESSAGE
Nasim Shahid Mughal
We are very thankful to Almighty Allah Who has given us the opportunity to serve our customers by supplying quality products as per their wish and demand.
ASLI PUNJAB INDUSTRIES (PVT) LIMITED is a customer caring company which aims to produce and supply quality products to the end user.
ASLI PUNJAB believes that there should not be any sort of compromise on quality. In order to ensure the quality of our products we have adopted international quality standards. Customer satisfaction is one of our key goals so all these quality standards are practiced strictly.
With my faith in Allah and belief in the dedication of our staff, I see ASLI PUNJAB to become the leading quality manufacturer and supplier in years to come.
Today ASLI PUNJAB INDUSTRIES (PVT) LIMITED possesses sophisticated machinery modern management systems and a team of highly capable individuals. Our team of competent professionals is filled with zeal and dedication to leave no stone unturned for the achievement of our common goal, complete customer satisfaction. We do not Compromise on Quality.
All these goals cannot be achieved without having professional work force. Fortunately, the staff at Asli Punjab Industries is extremely professional and committed. We will leave no stone unturned in striving for excellence and will utilize all our capabilities to make ASLI PUNJAB one of the acclaimed industries of this era. May Allah ease and bless our way in accomplishing our goals (Ameen).
Our Idealogy
Our Prime Focus Is Customer Satisfaction
At ASLI PUNJAB INDUSTRIES (Pvt.) Ltd, our prime focus is a customer satisfaction. Therefore, we are committed to meet their needs and expectations by offering a wide range of products and delivering quality within stipulated time. We strive to achieve this through:
Manufacturing process to achieve zero defect products.
Effective communication with customers.
Timely dispatch.
Ensuring employee satisfaction at all levels through motivation.
UPVC Pipes (20mm – 200mm for different applications)
Polyethylene sheets (100 – 1200 Gauge)
Warning Tapes / Trench Markers
Water Road Barriers and Water Tanks
Adhesive Tapes
Factory Tour
Production Hall
Pipe Production
PLC Extruder
Newsletter
Subscribe to our newsletter and follow our content closely. Receive news based on what has to do with you. We promise not to send promotions you don't like.